Connie Reddin, from Ballybrack in Co Dublin, is a much loved wife, mother and grandmother. Five years ago, she was diagnosed with Alzheimer's Disease. Here, her daughter Yvonne writes a moving letter to Connie — one that her mother will never be able to read
If I could wish for one thing it would be to speak to you face to face — the way we used to when your mind was still your own. It's hard to believe you have left us so long, in spirit not in body.
We will never forget when your doctor talked about Alzheimer's for the first time back in 2006.
It was a word that became real when we had to celebrate your 70th birthday with a stranger who looked identical to you. We know it's not your fault but that of the debilitating disease that took over you.
You look at peace most of the time; it is the ones left behind that are not.
Watching you trying to put one foot in front of the other, not able to find the words to communicate and struggling to take part in everyday life breaks our hearts.
Your husband Pat and your three children still find it so hard to accept the slow, lingering death of the strong woman that you once were.
I wonder if I read this letter out to you whether somewhere, deep in your mind, a memory or two might come back …
I won't go back to the beginning yet. We'll start with a time that gave you so much joy.
You met Pat, your husband, at one of many dances in the old Parochial Hall in Dun Laoghaire around 1962 and after that in the Top Hat dance hall. Dancing and music was such a big part of your life. You loved Connie Francis, Patsy Cline, Bill Haley and all the show bands.
And to this day although you can't string three words together you can sing every word of 'Danny Boy' and sing along to the old tunes. It is baffling. Pat says he walked you and your friend Rose home one night in the snow and began courting you from there. Rose was your bridesmaid when you married Pat on October 2, 1965.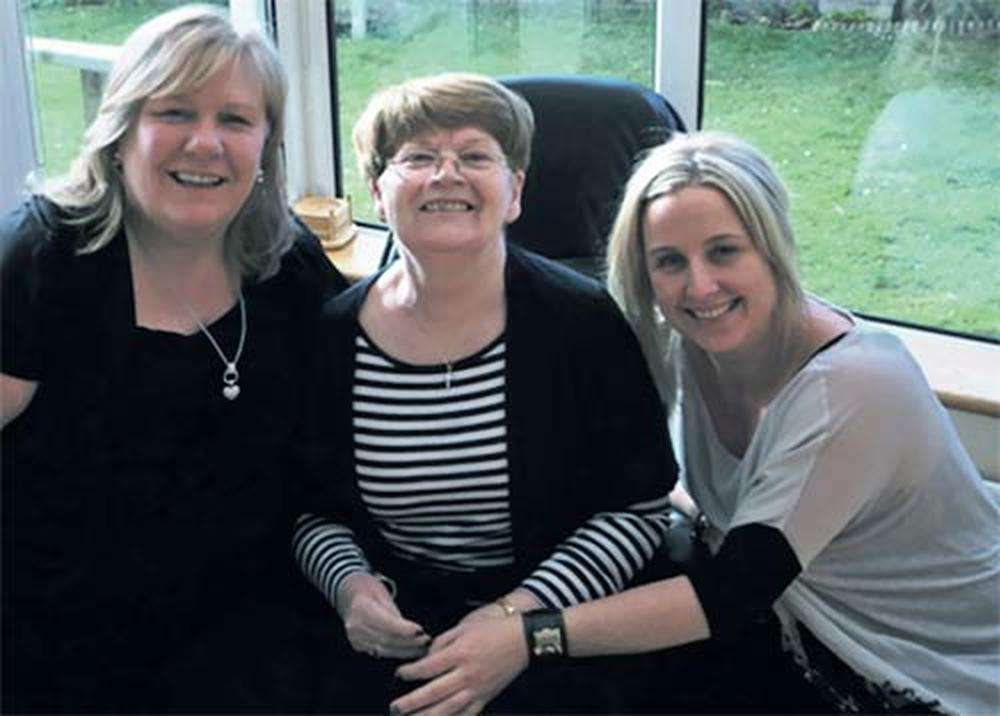 Three years after you married, Jackie came along, me three years after that and Dwayne three years after me. You always wanted children and you got three presents from God.
You always loved Dun Laoghaire and lived there till you were seven and then you all moved to Monkstown Farm. Your dad got sick soon after and died when you were 11 leaving your mother Mag with eight children to look after, your five sisters and two brothers.
Things were tough for Mag then and later in life she too succumbed to Alzheimer's and died at the age of 80.
What do I remember about you from when I was little, Mam?
It's strange, the thoughts that come back. Do you remember your yellow bicycle with the basket in the front? You were such an active person, always pedalling to your job making ladies hosiery in Glen Abbey, Blackrock, and working for Wally Knowles, where you could earn a few bob.
You loved singing too, and dancing, and reading stories to the children you were minding.
You were always kept busy looking after your family, cleaning, cooking dinners (which weren't great — ha ha!).
You had a really special way with children — although you didn't take any nonsense.
You may have scared us a bit then, but you were really a big softie underneath. I think we all had our special relationship with you and you knew us inside out, as only mothers do.
Over the last few years, so many parts of your personality have slowly disappeared; those things that made you Connie. That's what has made it so hard to come to terms with your illness.
We have read so much about Alzheimer's, we could be expert analysts — but there are always more questions with no answers.
How can a disease transform a resilient, independent mother and wife into a silent shell who just exists?
It's a disease with no decorum or soul, which leaves a person with no memory of their life — a life which slowly disperses into nothing.
The blankness in your eyes when you look at us is the hardest thing to accept; not knowing our names and what we meant to you.
You were everything to us and when you got ill, we didn't know what to do. How were we going to get through this? Could we do it together?
We did come together, we did cope and, Mam, believe it or not, we are still hoping for a miracle.
My sister Jackie was the first to notice changes in you, probably in 2001, and she remembers blaming the forgetfulness then on the fact you hated turning 60 and getting old.
But no one believed or listened until it had developed rapidly by 2005 and no longer could be a hidden secret.
Your sister Joan disguised a lot of your silly incidents that became more frequent …
The constant repeating of stories, the many boxes of mince pies and uncooked chickens you would buy in Tesco, forgetting anything you were told.
The list is endless.
You got so close to your sister Joan in later years and when she died in 2004, Jackie remembers you were completely unemotional.
That was so unlike you. It seems that after Joan died, you slowly started dying too.
Your husband Pat remembers a holiday to Clare in 2004 when you were constantly looking for your handbag and putting the same clothes back on the next day.
For such a meticulous woman, this was not you as everything matched from bags to shoes and even your lipstick matched your nail varnish.
Then you started to hide clothes because you thought Pat was going to sell them. The paranoia crept in and you would get so angry, wanting to throw things; it was heartbreaking to see. The illness is as my father sums up … so sad.
He and you had great plans to do more travelling. But that dream came to an end in a neurologist's surgery with one word from the doctor: Alzheimer's.
When your Mam died of Alzheimer's, you said to my sister Jackie that if it ever happened to you to put a pillow over your head as you never wanted your dignity taken away from you.
Believe it or not, Mam, we are still dreaming that your life and your dignity will return.
We still believe that a miracle might happen.
Do you know the thing that kept our flicker of hope burning, Mam? It was your paintings.
Although you were slipping away from life, they showed that you were still here somehow and coping in your own way.
I never knew you could paint, although you said you would have liked to have learned it. It seems you were able to do it after all and you didn't even know.
Your sunflower painting symbolised to me that you were OK. Maybe it was a way of communicating.
Sadly, even your painting has stopped now.
It's a guessing game as to how you feel and think.
And deep down we know it's a forlorn hope that you will get better, Mam.
We have had to face the reality of a nursing home as you have deteriorated so quickly in the last few months.
You should know, Mam, that you are not alone with this dreadful disease. More than 40,000 people in Ireland have it.
Some have no families to remember them. Others are just forgotten.
Connie — you won't be.
Love you always,
Your daughter,
Yvonne,
xxxx
Featured in The  Independent.ie
https://www.independent.ie/lifestyle/health/alzheimers-disease-dear-mam-26779534.html