This week on Talk Learn Connect, Writer Yvonne Reddin asks Author, Playwright and Horticulturist Patrick Osborne, to share some TLC (Talk Learn Connect)

Can you give a summary of your career to date as it is quite a varied one?
My first job was selling newspapers when I was eleven. Today, it probably sounds like something from a Dicken's novel. The money was small but the tips were great, especially selling papers in the pubs to fellas who were half cut. It's been all downhill ever since!
My grandparents had a coal yard and I used to help my granny with the scales and on the till. There was a lot of poverty back then, especially in Dublin's inner city.  Some people couldn't afford a full bag of coal so they would buy maybe a stone at a time. My granny was a lovely, kind woman and she always gave that extra little bit to people who were struggling.
As my interest in horticulture developed, I got a job in a gardening shop, Mackey's Seeds on Mary Street when I was still at school. The shop is long gone and is now the entrance to the Jervis Shopping centre.
After starting college in the National Botanic Gardens, Glasnevin, I got to work in many different parks all over Dublin. These included  Merrion Square, the Royal Hospital Kilmainham and Malahide Castle. I also worked in Glasnevin Cemetery on the old side, where the Daniel O'Connell tower is situated. This was a fascinating place, steeped in history and well worth visiting.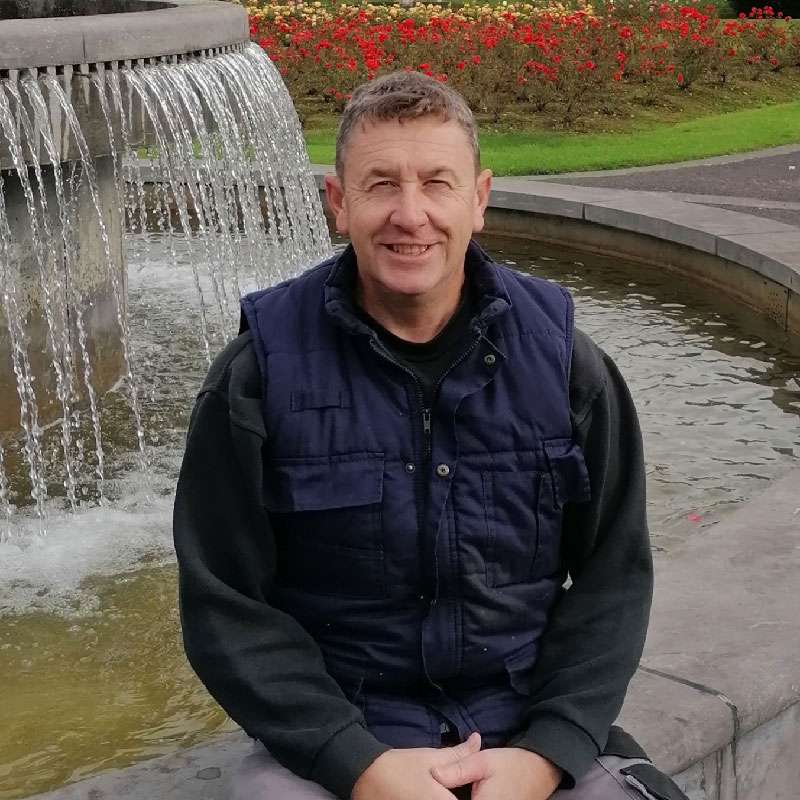 "I was also employed as a Fás supervisor, spending five years in an old Guinness estate on a fifty-acre site in Chapelizod, near Farmleigh.  It was a stunning place and I loved it there"
After that I helped to set up a landscape and maintenance company called Cleansweep for the Daughters of Charity. The workers were adults with mild intellectual disabilities and it was a very rewarding place to work. I spent another five years in this job and one of our main contracts was in Aras an Uachtarain while President McAleese was in office. It was a brilliant experience.
In 2003, my wife Liz and I relocated to Kerry with our three young children - Robert, Rebecca and David. I spent the next nine years working as grounds manager for a large hotel group and again really enjoyed the challenge. I also set up my own landscape business and ran it successfully for over seven years but decided to get out of it at the end of the Celtic Tiger.  I would have had to expand the business and get more involved in the construction end of things to survive.
This would have meant working anything from sixty to eighty hours a week, so I re-evaluated my situation and came to the conclusion that my family were more important. I have since taken up a gardening position with Kerry County Council which gives me a far better family, work and lifestyle balance.
'Killarney's answer to Roddy Doyle' as headlined in a local paper, that is some comparison, how does it make you feel?
I was mortified but delighted at the same time as I'm a massive fan of Roddy's. I read The Commitments while at college, I was about nineteen at the time and it was just before the film was made. I was totally hooked.
I've since read most of Roddy's books; I loved Paddy Clarke Ha Ha Ha as it could have easily been my own childhood. I also loved his television series The Family based around his novel The Woman Who Walked Into Doors.
How have you managed during the lockdown/pandemic on a personal and professional level?
I'm one of the lucky ones, in that my job with the Council was classed as an essential service so apart from the initial three weeks of lockdown I've been working away full-time. My wife, Liz is a nurse so again she has been constantly in work.
I'm also a referee with the FAI and an underage coach with my local GAA club, Killarney Legion.
My sons, Robert and David were away in college so they can back home fulltime also my daughter, Rebecca's job shut down so she was also at home full-time. We all had to get used to living with each other once again only this time there were five adults living under the one roof.
"One the hardest things for me personally was not being able to visit my family and friends in Dublin, especially my parents, my Dad is eighty-one and my Mam is seventy-nine this year. The other thing I really missed was sport"
As writers, we are comfortable with isolation life, have you begun another book or have an idea for another?
I'm comfortable in my own company so I can quite easily get lost in a book. I did find writing difficult to concentrate on initially even though I had a number of projects and ideas to work on.
Prior to lockdown myself and some friends had set up a drama group called the Four Esquires and we had successfully staged several short plays. We had to shelve our plans to put on other plays.  I did get to develop two more and all going well we will put them on soon.
The lockdown presented a new challenge in marketing my debut novel, Baxter's Boys, so that has been a very worthwhile experience. I've also been working on my second novel. It's a dark comedy, a kidnapping caper set in Dublin.
I don't want to give too much away about it at the moment but as part of the research I spent an afternoon in Mountjoy prison where I almost started a riot.
Can you share any words of wisdom that helped you in your successful career?
I'm not sure if I can pass on words of wisdom but I've picked up a few bits and pieces along the way which have definitely helped me.
The number one rule I try to live by is to be an active participant in your own rescue.
No matter what you do in life or what you hope for you need to ask yourself what am I doing about it and is it enough? A coach once told me that you have two ears and only one mouth so try to listen twice as much as you talk.
After all, you already know what you're going to say but if you listen you might learn something new. I definitely try to be courteous and respectful to everyone whether you're the tea lady or the CEO of a multinational company.
If you don't treat people fairly well then I've no interest in you as you've lost my respect.
To reach out and connect with Patrick Osborne see below