This week on Talk Learn Connect, Writer Yvonne Reddin asks Regional Development Officer for See Her Elected (SHE) - Michelle Maher to share some TLC (Talk Learn Connect)

Can you share your background and what area of profession you are in currently?
At school I always loved science and after getting a place in National University of Ireland (NUI) Galway to study zoology, I thought that I was sorted for life! Little did I know. A letter from the civil service offering me a job knocked me off course and I packed my bags and headed to Dublin - lured by the thought of a wage and living in the Big Smoke.
I can't remember the grade but it was one of the lower ones, at the time and you got a pay rise annually regardless of how much or how little work you did. I was grumbling about the inequity of this to a flatmate who worked for an international pensions consultancy. She told me that there was a vacancy in the administration department and that I should apply. I did, and that led to a fifteen-year career in the pensions industry and by progressing and passing all the industry-relevant exams, I ended up as a Consultant in the Employee Benefits Division.
After a few years out of the workforce to meet family commitments, I took yet another career swerve and went to Maynooth University as a now, mature and much more sensible student. A degree in politics and history was followed by a PhD and lecturing on the University's politics degree.  2020 saw me leaving academia and joining See Her Elected (SHE).
"If you have ever been told 'sure that's the way it's always been', or 'this is the way things are done around here' - then you have found an informal institution!"
When and why was See Her Elected (SHE) developed?
SHE was established in 2019 as a partnership programme between Longford Women's Link and 50:50 North West. We are funded by the Department of Housing, Local Government and Heritage. SHE's purpose is to support women into political life, with a particular emphasis on the rural constituencies of the North West and Midlands. Some, predominantly urban councils are there or thereabouts when it comes to equal representation for men and women, for example, Dublin City and Dun Laoghaire - Rathdown.
Others, for example, Meath and Kildare are at 60:40 in favour of men. But, it is a very different story in rural counties. Donegal has thirty-seven county councillors, only four of them are women. Sligo, Roscommon and Leitrim each have eighteen councillors with only three women in each.  Longford only elected a single woman councillor, with a second being appointed to replace a male councillor who was successful in his bid to become a TD in February 2020.
So, it is obvious that there is something specific happening that is leaving women in rural Ireland severely under-represented in political institutions. Although SHE was established to support women in the rural constituencies of the North West and Midlands region, moving online to circumnavigate Covid-19 restrictions means women outside of our intended region have an opportunity to benefit from our work.
In your opinion, why is there such an imbalance in gender ratio, in not only the political arena but across the board in many professional areas?
It's a combination of factors but if I had to pick one, it would be the informal institutional structures of society. Examples of informal institutions are conventions and patterns of behaviour.
"If you have ever been told 'sure that's the way it's always been', or 'this is the way things are done around here', then you have found an informal institution!"Informal institutions stick over time and become accepted by many as the normal way of doing things.
To see one example of this playing out in practice - a typical GAA club is a good place to look. Being part of a GAA club is acknowledged in political research as a key network to have at your disposal if you have political ambition. But men and women usually have very different roles in a club. Men are coaching the teams, holding key committee positions and other areas that are central to the success of the club.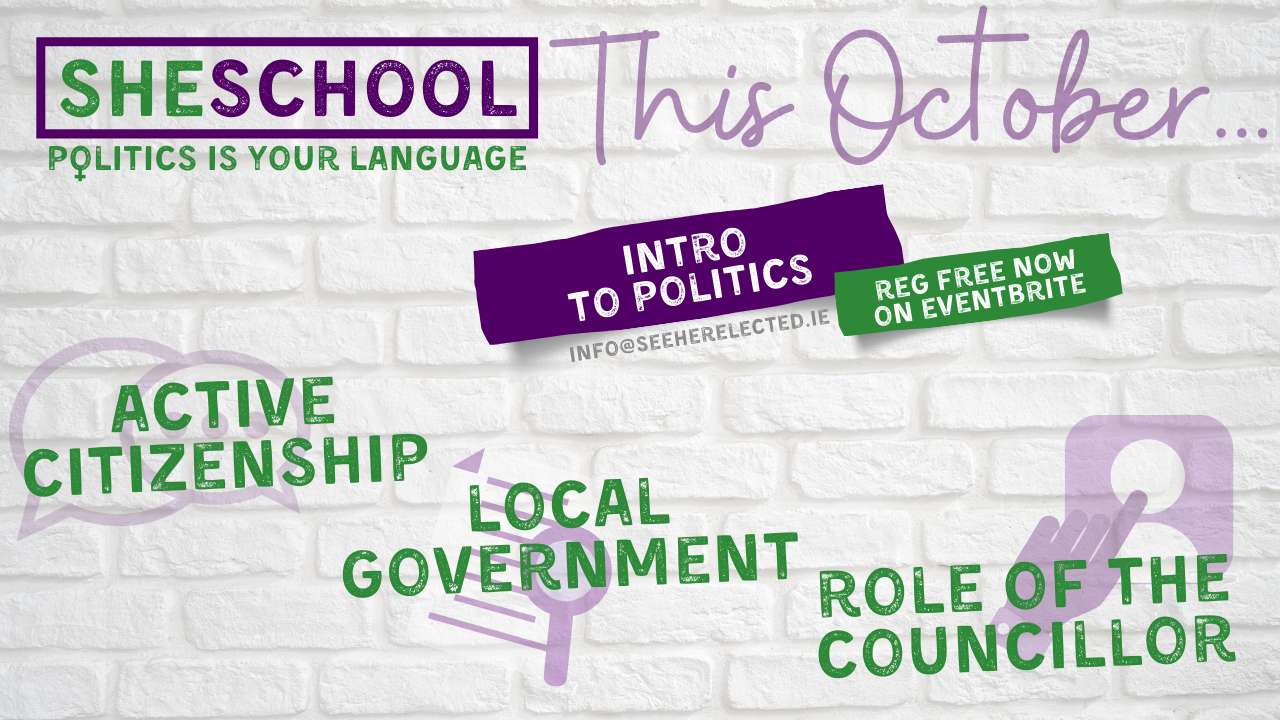 Women are to be found transporting junior players, fundraising, maybe acting as secretary. And that's the way it has always been – the normal way the functions in a club are divided up. But one set of activities can be converted much more easily into tangible political capital when required, and it's not the network of sandwich makers!
Are there many people that inspire you and what is it that you find encouraging and motivating about them?
Oh, that's a good question!
There is a member of my family dealing with a particular set of circumstances with dignity and courage that makes me immensely proud and I know their actions have been inspirational to many others, myself included. In terms of public figures, I am drawn to those who exhibit both integrity and intelligence and who have done interesting things with their lives. So among those I admire are Mary Robinson especially since she started podcasting and I discovered her sense of humour!
I have just finished reading Rosita Boland's book Elsewhere and I admire how determined and fearless a traveller she is. She would give anyone courage to take a step into the unknown. Rosita talks too about life rarely turning out the way you thought; but it is what you have and too short to waste. It's no harm being reminded of that.
Can you share any words of wisdom that helped you in your successful career?
I was part of a charity cycle and when faced with a tough climb at the end of a long day I was ready to give up. But a more experienced cyclist kept pace with me and got me to repeat the mantra 'I can, I will', with every slow rotation of the pedals.
It worked. I got there.
I still find myself repeating those words to myself when the going gets tough, often without immediately realising what I am doing.
And they still work.
Connect with Michelle here for information on SHE School political training: